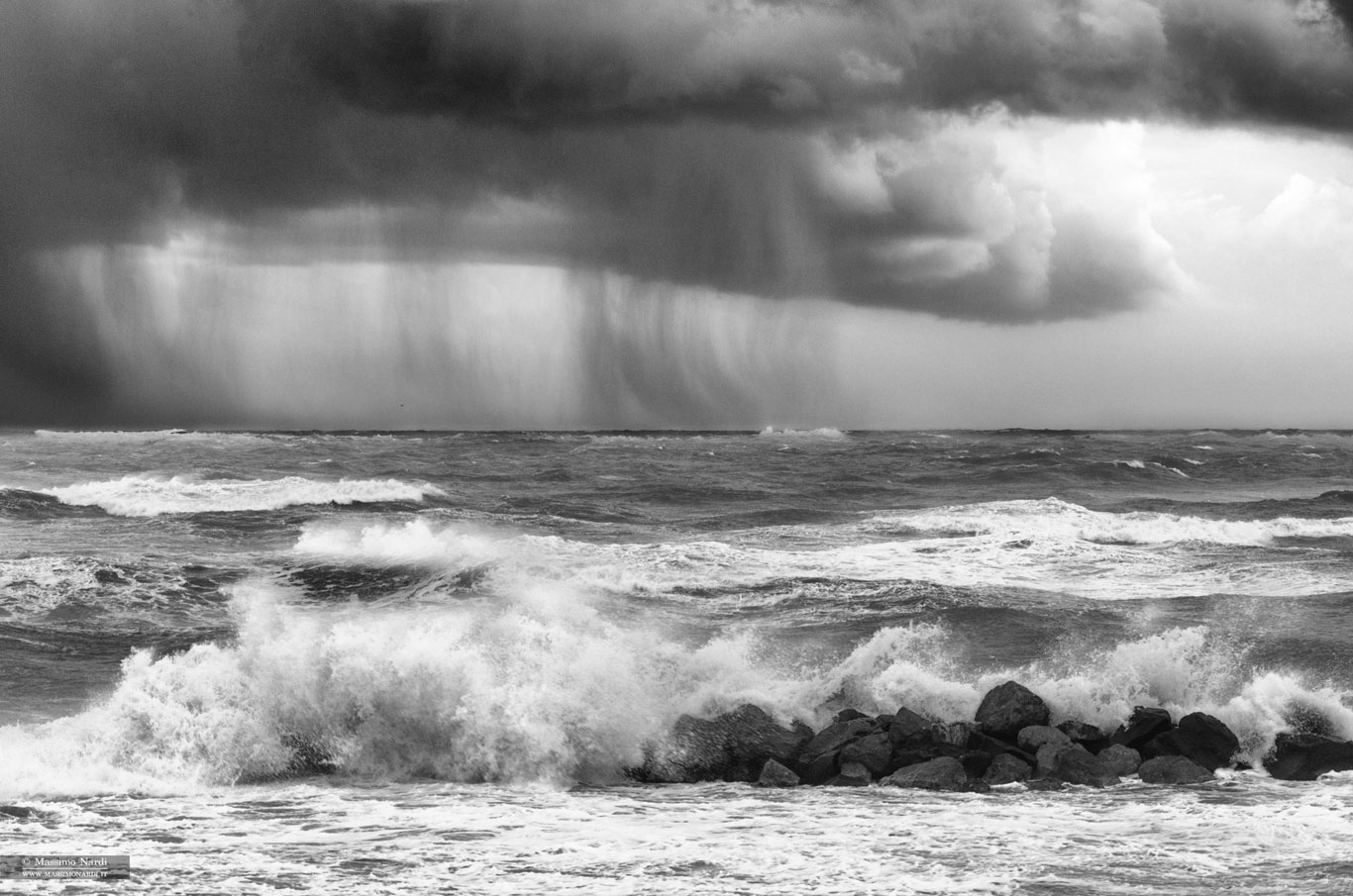 "I pescatori sanno che il mare è pericoloso e le tempeste terribili, ma non hanno mai considerato quei pericoli ragioni sufficienti per rimanere a terra".
(Vincent Van Gogh)
"The fishermen know that the sea is dangerous and the storm terrible, but they have never found these dangers sufficient reason for remaining ashore."
(Vincent Van Gogh)
Non ci si abitua mai alla bellezza del mare in tempesta. Neanche per me che sono nato in un porto di mare come Anzio. Sin da bambini si cresce con la speranza che quell'alito di vento pomeridiano diventi ben presto nella notte maestrale o scirocco o libeccio, che gonfia il mare fino a farlo infuriare. E così il suo suono roboante ci culla durante il sonno, mentre al risveglio si mostra in tutta la sua spumeggiante maestosità.
E quando al vento si accompagna la pioggia, come nei giorni di questo breve reportage, allora tutto diventa tempesta. Mare, vento e pioggia si fondono in un unico spettacolo naturale, che si ripete ciclicamente non annoiando mai, e si presenta ai nostri occhi nella sua spaventosa potenza e indomita bellezza. E a noi non resta che tacere ed ascoltare.
You never get used to beauty when the sea is stormy. Not even for me that I was born in a seaport like Anzio.  Since children we grow up with the hope that the afternoon wind becomes mistral or scirocco or libeccio during the night, which swells the sea until it rages. And so its roaring sound cradles us during the night, while in the morning it shows itself in all its bubbly majesty. And when the wind is accompanied by the rain, as in the days of this short report, then everything becomes storm. Sea, wind and rain come together in a single natural spectacle, which is repeated cyclically, never boring, and shows itself in front of our eyes in its incredible power and indomitable beauty. And we just have to keep quiet and listen.
Contenuti
,
Progetto Fotografico
,
Reportage di viaggio
,
Reportage Fotografico