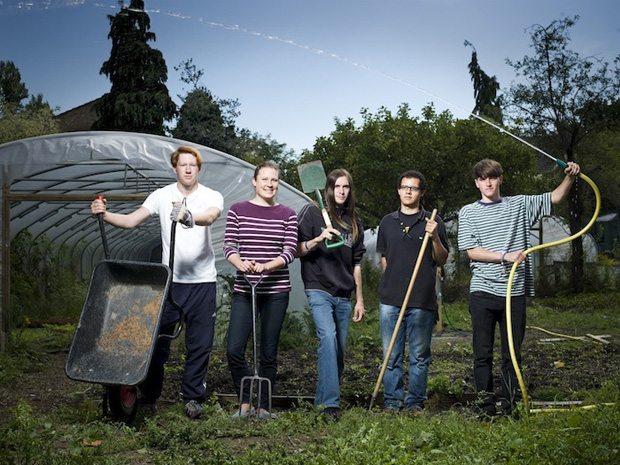 From 1780 to 1830 it was the birthplace of the Industrial Revolution, the process of transformation of society from a purely agricultural system to a typically industrial, characterized by the use of fossil fuels and machines driven by mechanical energy. Since then, the UK, and London in particular, suffered the strong urban and social change, with a gradual abandonment of the campaign in favor of the city. After a little more than two centuries, right across the Channel, albeit slowly, there is a process that is totally the opposite of the Industrial Revolution: a genuine return to the country, which is in the urban farms the most lively and fervent expression. One of these is Cultivate London, a small but thriving urban farm, based across multiple derelict sites in west London. A social enterprise that has recently received the "Producer of the Year" award by the Observer Food Monthly as done in the context of urban agriculture.
To better understand this trend, we interviewed Adrienne Attorp, General Manager of Cultivate London.
Where was the idea of Cultivate London born?
«Cultivate London was established in 2010 by London-based charity Housing Pathways Trust (formerly the Ealing and Brentford Consolidated Charity) with the aim of addressing youth unemployment in London Boroughs of Hounslow and Ealing. A horticulture business was chosen as a vehicle for this training program because of a growing interest in local food, and the theraputic benefits associated with working with plants in a hands-on, outdoor setting».
Cultivate London has three main objectives. The first is to generate training opportunities and jobs for unemployed young people aged 16-24 in practical horticulture. What is the answer of guys? And what about their future after the training?
«There is generally a very positive response to the training program – our trainees really enjoy trying something new, being outside, and doing hands on work. We try and make the work a lot of fun as well. When trainees finish with us, we aim to help them on into sustained employment, or at the least, other training opportunities. Last year more than 50 percent (13) of our trainees who graduated our program went on into work, and a further 5 went on into other training opportunities. Some of this was in horticulture, while others obtained work in the food industry and other fields (not necessarily relevant to horticulture)».
The second objective is to convert derelict and vacant land across London into productive food growing space. What was the situation before your job? And now?
«There has always been a fair amount of disused land in London, although much of that is slated for development (that is, it is owned by developers and councils). When we first started, it was difficult finding companies/organisations that were willing to grant us meantime use of the land while it was waiting to be developed. However, as we have grown and developed a track record of training and sound business practices, people have begun to approach us with land – we don't have to look far for space. We started with one site in Brentford and now have 4 sites – two in Brentford (LB Hounslow), one in Isleworth (Hounslow), and are in the process of developing a site on the South Acton Estate in LB Ealing».
In the end, the last objective is to increase the amount of local and organically grown produce consumed by Londoners. Have you some datas about it?
«None specifically…we do sell all of our produce within London, primarily within West London, and sell between 5 and 20 kg of salad per week between March and December. This year we aim to consistently hit 20kg for this period. We also sell a wide range of potter herbs and veg so people can grow their own. We sell thousands of pots a year, but how that translates into consumption I don't know!».
Even in Italy there is an increase of urban farms. And at the same time many guys are coming back to agriculture. What do you think about it? Is the same in England?
«Interest in urban agriculture is growing rapidly in the UK, particularly in London, and has been for the past 5 years or so. Initiatives like Capital Growth (Sustain) have been instrumental in increasing awareness about it and helping facilitate it. More and more young people, particularly middle class and well-educated young people, are becoming interested in sustainable food production, and that is driving their return to agriculture. Whether this trend will continue I cannot say, but if food production continues to be a hot topic (which I hope it will), I don't see why it would change. One problem is that there is not much money in horticulture, so that may be a deterrent for many who may otherwise be interested in the field».
Your purposes are really close to the Degrowth Movement. Is it right?
«While our objectives may be similar, we are not associated with the Degrowth Movement, nor were their principles instrumental in our set up».
Do you think that issues such as ecology, vegetarianism, non-compliance of nature, will never as a priority on the political agenda of governments?
«I think issues become government priority when they are issues with the majority of the public. People running governments are not bad people (at least, not more so than the rest of the population), but they have to do what it takes to keep votes, and if a policy is not popular with the public, it will be a lot harder to push it through in government. If the public demands that the government pay attention to these issues, if enough people say it is important, then governments will put more emphasis on them in political agendas».
In conclusion, Jigme Singye Wangchuck, King of Bhutan, said: «Gross National Happiness is more important than Gross National Product». Is that unattainable hope?
«Happy people work harder and contribute more to the economy, as a general rule. Population health and happiness is critical to a strong economy. Is it unattainable to believe that it is possible to have both a healthy and happy population and a strong economy? They are interlinked, and to a degree drive each other forward. I like to believe that although things are not always positive, and bad things happen all the time, lots of good things also happen, and people are very resilient. We have to hope that we will continue to move towards a better future, because if we don't hope, then we might as well give up!».
Leggi l'articolo in italiano su Il Cambiamento.
(Foto cortesemente concessa da London Cultivate)
Contenuti
,
Il Cambiamento
,
Intervista
,
Testi